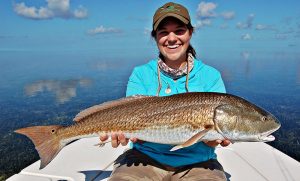 The clear, shallow water flats of Islamorada and the Florida Keys could have been custom made for "sight fishing".
The term "flats" generally refers to the shallow areas of the oceanside and nearby bayside waters. Sight fishing involves stalking the flats in my skiff, hunting for bonefish, permit and tarpon. Casts are made to individual fish so casting accuracy is needed. This game is all about "quality not quantity".
Sight fishing is demanding but by far the most rewarding way to fish. For the uninitiated you'll realize this when you spot a 100lb tarpon, cast to it, watch him inhale your offering and then go airborne! You will never be the same! The challenge of sight fishing only makes the catch that more memorable and the satisfaction level on par with nothing else. You will never forget these fish. I guarantee it.