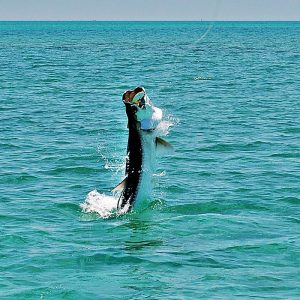 The first time you hook an Islamorada tarpon and a fish that looks like a 6-foot piece of polished chrome goes airborne, you'll know why the nickname "Silver King" is appropriate.
Legendary for their strength and aerial acrobatics, tarpon can range in size from petite to down right slob-sized.  At certain times of the year casting to one hundred pound fish is common!
Islamorada tarpon fishing will test your physical and mental limits.  They will beat you up and leave you psychologically in tatters.  How many other fish can you say that about?!  Tarpon fever, baby!!!